Everything you need to know about winter coats and winter jackets
The days are getting shorter, the temperatures are falling and the clothes are getting thicker. The time has come: Winter is coming once more – and with it, winter coats will find their way into your wardrobe, just like every year. But what actually distinguishes the coats and which characteristics should your new women's winter coat or winter jacket fulfil so that you'll always have it cuddly and warm? In the following text we will tell you everything about the warming outerwear, so that the choice will be easy for you!
What constitutes a good winter coat?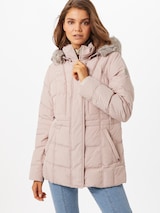 Choosing which winter coat to wear is definitely important, because it is not always easy to find the right model which is comfortable and fits you well at the same time. The most important characteristic that the coat has to fulfil is of course that it will keep you warm even at temperatures below freezing point. The difference to other coats, which are worn in spring or autumn, is the lining. The models for the cold season usually have a very thick lining made of different materials, such as down or synthetic fibre, and can protect your body perfectly from cold temperatures. When buying your winter jacket, you should therefore always pay attention to where you are and how cold it really gets in winter. In areas where it can be -15 °C in winter, the winter jacket should be warmer than in areas where it is always above 0 °C.
Which materials are available and which heat insulation is best?
In order to be prepared for different temperatures and to always be dressed sufficiently warm, there are strong winter jackets made of different materials, which we present to you in the following paragraph.
Down jackets
Down jackets are characterised by the fact that they are filled with soft feathers, the so-called down. Birds use the feathering to protect themselves from cold and warmth, thus having an insulating effect. This effect has been exploited by man and is used in the production of winter jackets. Down jackets are perfect for very low temperatures as they have a great thermal capacity. The down is kept in place by quilting so that it insulates evenly and does not slide into the lower part of the jacket. Down jackets have the great advantage that they are very light. A disadvantage of down jackets is their usually very high price due to the costly extraction of the down. Furthermore, as with all animal products, it is a personal question whether one wants to use such a jacket. In the meantime, however, there are several alternatives to animal down that keep you just as warm. The soft fibres can be made of polyester, soya or Tencel, for example. These non-animal fibres also have the advantage that they are much more suitable for rainy weather than down that comes from animals.
Quilted jackets
Like the down jacket the quilted jacket, as the name suggests, is made of quilting that keeps the filling material in place. The difference is, however, that the quilted jacket does not necessarily have to be filled with down, there are also quilted models. Due to the quilting the jacket insulates perfectly and is also very suitable for low temperatures.
Double jackets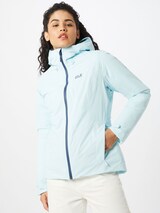 For areas where it doesn't get too cold in winter, double jackets are perfect. These winter jackets have the advantage that they can also be worn as a transition jacket in mild temperatures. They are characterised by a two-layer system, in which a second jacket can be attached to a usually windproof outer jacket by means of a zip or buttons. This inner jacket is often made of a fleece fabric that insulates well and keeps you wonderfully warm. Should the sun come out in the afternoon, you can easily remove the outer jacket and never break a sweat. On rainy days in autumn, you simply wear the outer jacket solo.
Winter jackets from synthetic fibres
Naturally, there are also winter jackets without quilting, which are padded with synthetic fibres to keep you warm at low temperatures. Some models have a smooth surface on the inside and are only lined on the inside, other versions of the synthetic fibre jackets are additionally equipped with a soft teddy fur or fleece lining on the inside.
Wool coats
Warm winter coats are also available in woollen fabric. The great thing about wool is that it insulates well and protects you from the cold. The wool winter coats for women are admittedly not for icy temperatures, but for temperatures around zero they are perfect. The great thing about these beautiful winter coats is that they can also be styled very elegantly. They are therefore the ideal companions for the office or a winterly event.
Coats with fur collars - Yes or No?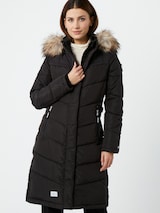 With many warm winter coats you will find a fur collar. This can add extra warmth, but also serves as an optical eye-catcher to spice up the coat a little. In the past, the fur collar was mainly made from the fur of various animals, such as rabbits or mink. Even today you can still find the real fur trimming on some winter coats with fur. More and more fashion enthusiasts, however, are turning away from fur collars and prefer a winter coat for ladies with fake fur. The criticism is that the animals the real fur is taken from are bred under inexcusable conditions and consistently have to die in agony. So it's best to choose a winter coat with fake fur if you don't want to forego the fur collar.
Winter coats in different lengths
The length of your winter coat depends entirely on your taste. There are short winter coats, which usually only reach up to the hips and therefore cover mainly the upper part of the body. Long winter jackets reach over the bottom and therefore warm you up a little better than the shorter versions. Which model you finally decide on depends on your personal preference, but also on the temperatures at which you want to wear them. Short winter coats for women are especially suitable for milder temperatures, longer models can also be worn at lower temperatures.
Colours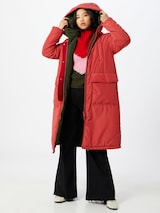 When buying your winter coat, it is also important to know which colour you prefer – after all you will be wearing it during the entire winter. Subsequently, we will give you some suggestions to make your choice easier and to help you find your new ladies' winter coat easily.
Ladies' winter coats in black
are the classics among the winter coats. They have the big advantage that they complement every outfit. This is especially important if you only have one winter coat in your wardrobe, since it'll have to be worn with many outfits and colours. However, black does not mean boring, because even the dark winter coats come in a stunning variety of cuts.
Women's winter coats in grey
Grey winter coats are very popular, in particular the models made of wool. This colour gives the wool coats an elegant touch and fits perfectly with light outfits or dark trousers.
Yellow winter coats
Still popular to this day are yellow winter coats. The gaudy models are real splashes of colour in your outfit and are definitely an eye-catcher! Especially in the cold and dark winter, a little glimmer of light in your outfit elevates your outfit and everyone's mood instantly. A mustard colour in particular has as of late come back as a trend!
Winter coats for ladies in blue
Winter coats for ladies in blue are also great companions through the cold season. The colour often embodies a maritime flair and can be combined in versatile ways. Whether light or dark blue, with a winter coat in blue you are always on the safe side.
Waterproof winter jackets for women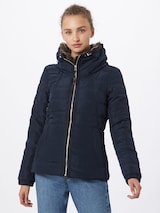 Especially in times of snow and rain, it makes sense to wear a waterproof winter jacket for women. Once the winter jacket is soaked, the cold will penetrate far faster. Waterproof models are available with different fillings, for example down or synthetic fibre. With a down filling, however, you don't have to worry about the down getting wet, because the rainproof outer material keeps the moisture out.
Which alternatives to the winter coat are available?
Of course there are some alternatives to the classic winter coat that you can choose from on cold winter days. Pregnant women in particular need a winter coat that fits perfectly when the belly grows. In the following we present you four alternatives.
Advantages of winter jackets
The winter jacket basically has the same features as a winter coat and is also made of the same materials. The difference is, however, that a winter jacket for women is significantly shorter. A distinct length at which a jacket becomes a coat is hard to pinpoint, but most winter coats reach at least to the middle of the thighs, though there are also models that reach to the ankle.
Parkas
Parkas have a length between a winter jacket and a winter coat and usually reaches just over the bottom. The parka is characterised by two large pockets on the hips and its hood. It originated with the Inuit, but was first used by the US military in the 1940s as part of the winter uniform. Twenty years later, parkas had also become popular with the civilian population and have since turned into a trendy garment for the cold days. The winter parka often still has a fur collar and soft lining.
Teddy coats
Teddy coats did not get their name by chance, as the fake fur from which the models are made are distinctly reminiscent of a teddy bear's fur. It is just as soft and cuddly and therefore perfectly suited for the cold days. The fake fur is usually made of polyester or other synthetic materials. Many of the teddy coats are similar to lambskin jackets in their texture and are therefore a good alternative for those who like to do without animal materials. There are the models in different lengths and also coats are made of the soft teddy fur.
Maternity winter coats
If you are pregnant, it is of course particularly important that your body is well wrapped and warm. As your belly grows, it can happen that your regular winter coat no longer fits and it is time for a maternity winter jacket. These models have much more room in the belly area and do not restrict your space. There are also models that can still be used after pregnancy. With a wide insert in the winter jacket for pregnant bellies, which has a zip on each side, you can carry your baby in the cloth at the front and close the zip over it.
How to care for your winter coat properly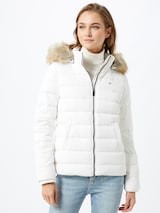 When it comes to the care of your winter coat, the material it is made of is paramount. Some down jackets can be washed in the washing machine, others should be professionally cleaned. You will find instructions on the label of your winter jacket. If you wash your down jacket in the machine, make sure that the temperature does not exceed 30 °C and that you use a suitable detergent that is not too aggressive. You should also put them in the dryer afterwards, because the wet down will be loosened again. Winter jackets made of synthetic fibres can be washed at home relatively easily in most cases. In this case, the right (low) washing temperature is crucial so that you can enjoy them for a long time. After washing, simply leave them to air dry. Wool jackets are a bit more sensitive, many of the models can only be cleaned professionally, but there are also variants that you can wash gently at home. The best way is to use a suitable wool detergent and wash the wool coat at a low temperature. The great thing about the models, however, is that wool is self-cleaning to a certain degree, i.e. it is often sufficient to air your wool coat after wearing it.
Additional winter clothing that complements your winter coat
During winter, when it is really icy outside, you undoubtedly don't just need a winter coat. Accessories like a hat or scarf are also important to keep you warm during times of snow and ice.
Functional underwear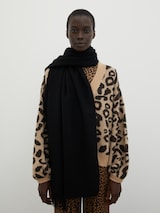 On freezing days or when skiing, they are essential – functional underwear. They come in the form of long underpants that can easily be put on underneath your jeans or as a top or t-shirt underneath a jumper. The special thing about functional underwear is that it is made of materials that warm you up and insulate particularly well. This includes merino wool, for example. You can also get underwear that is made from synthetic fibres, which is particularly suitable for intense training. Merino wool has the advantage that it is odour-resistant and very soft, so it can therefore be worn perfectly, for instance, on longer hikes.
Gloves
Naturally, your hands should be protected from freezing in winter – and to prevent this from happening, gloves are the perfect accessory! If you like it elegant, you can choose Leather gloves, which work just as great with business dresses as they do with jeans and a wool coat. Gloves are of course also available in simple cotton, as warm mittens or as lined functional gloves, which are mainly used for sporty activities.
Scarves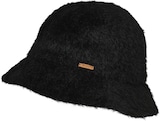 The scarf is a warming and fashionable accessory all in one and many fashion enthusiasts are looking forward to wearing the cuddly models around the neck all year round. No matter if it's a noble cashmere scarf, a soft wool scarf or a practical Snood, everyone will find his or her favourite. A soft silk scarf, for example, is great to wear even in the warmer months.
Hats
Caps have an important function in winter, as they keep your head warm and ensure that no body warmth is lost. But they also serve as a fashion accessory and can spice up your winter look. They available for example as an eye-catching bobble hat or as a warm knitted hat. For those who want to keep their ears warm, a headband for ladies is the best choice. Additionally, variations made of coarse knitwear look feminine and romantic.
Winter coats in the ABOUT YOU shop
You can find great winter coats online at ABOUT YOU. Here you will find a large variety of models, which will certainly have a coat that is perfect for you! Once you have found your favourite ladies' winter coat, you can order it online for free and try it on at home. If it doesn't fit, no need to worry – returning your order is free.