Jeans: Everything you need to know about denim trousers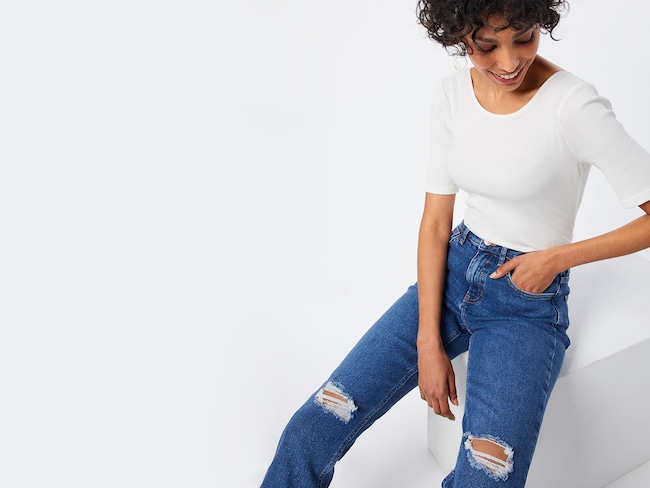 The history of jeans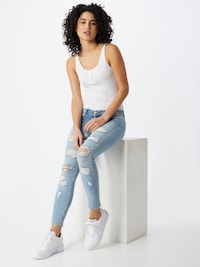 Jeans originated decades ago. They were invented in the USA about 150 years ago by Levi's founder Levi Strauss. Originally, the trouser model was intended as comfortable and for use as heavy work trousers. Levi Strauss made the jeans in an indigo blue, which was to become the trademark for denims. In the 1930s, the jeans were worn by American youth primarily in protest and during the 2nd World War, during which they also came to Europe. The first jeans for women finally appeared in the 1950s.
Today the variety of cuts, washes and colours is almost infinite, which is why it is not so easy to find your own favourite. So if you're wondering which jeans are available and which models suit you best, then you've come to the right place, since we've tried to shed some light on all the various jeans trends.
What material are jeans made of?
The first jeans were traditionally made from robust denim fabric, which consisted of cotton or hemp. Even today, the fabric is still used for the production of jeans, but other materials are often added. For body-hugging cuts, jeans often consist of a high proportion of cotton and a small amount of elastane in order to make the denim flexible and comfortable and to guarantee full freedom of movement. Skin-tight skinny jeans in particular need a high proportion of elastane so that they are wearable at all times and don't constrict. In addition, many jeans today still consist of a proportion of synthetic materials, such as polyester.
Jeans cuts for women
There are many different styles of jeans, all of which are described in the following text.
With the right waist height, every figure can be shown off to its best advantage
There are also big differences in respect to the height at which the jeans end. Depending on which height you choose, you can showcase different body parts.
High-rise jeans are characterised by the fact that the denim ends at waist level and thus optically elongates the legs. The cut also emphasises a slim waist.
Mid-rise jeans end between the hips and waist and are suitable for almost every woman. Whether you have slim or wide hips, mid-waist jeans can be worn by any woman!
Low-waisted jeans have a rise that ends directly at hip height and thus draws the eye to the hips, making them less suitable for women with wide hips. For women who want it to be even lower, ABOUT YOU even offers Super Low Waist Jeans.
Advice for every body shape: Which jeans model do you like best?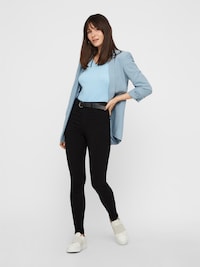 There is the right pair of jeans for every woman out there, for sure! In order to find the perfect model for you, pay attention to a few things. The following advice gives details about which cut suits the different figure types best.
Women with strong thighs should choose dark washes and jeans that are not too tight.Jeans with straight legs or pants with wide legs, the so-called flared jeans, which skilfully play around the thighs, are great. If you use a denim with a high waist, you will also stretch your waist and lengthen the leg area. So, you optically cheat a few pounds away. This variant with a high waist is also ideal for curvy women.
Jeans with shortened legs, so-called cropped jeans, are ideal for small women. Combined with black high-heels they are the perfect trousers to look taller.
Jeans with a low fit, the so-called low-waist, look great on women with narrow hips.
Tall women with a slim figure have a clear advantage because they can actually wear all cuts very well. Women with a wide waist should focus on the legs, for example with the help of bootcut jeans. Mid-waist or low-waist jeans are particularly suitable here; jeans with a high rise should be avoided.
Which denim washes are there?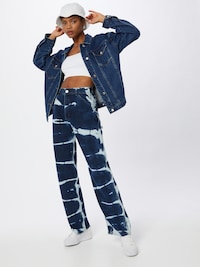 The right wash makes your jeans an absolute eye-catcher. But which variants are there and what are the differences between the different washes? We try to shed some light on this and introduce you to the most important washes.
Destroyed Look
One of the hottest washes is the so-called destroyed-look jeans, in which the jeans appear to be as if they're worn or torn.Distressed jeans are said to look as if they have been worn for years, even though they already have holes or tears when they are new.
Ripped Jeans
These are jeans with a subtle destroyed look as well as models that have been badly damaged. Similar to this is the ripped denim, in which the pants are provided with cross-sections, which ensures a frayed look of the jeans.
Bleached Jeans
Another popular wash is bleached jeans. Here, either the entire jeans or individual parts of the pants are bleached to create a lighter effect.
Stone-Washed
With the stone-washed technique, jeans are worked with large pumice stones to give them a faded and worn look. In comparison, there is also the sand-washed technique, in which your denim is washed with small pumice stones, which means that the effects are not as noticeable as when treating them with larger pumice stones.
Acid-Washed
The next jeans wash is the so-called acid-washed technique. Here the jeans are treated with acidic pumice stones, giving them their characteristic rock-like appearance. For a long time, these denims had disappeared from wardrobes, but are now making a comeback; hardly anyone doesn't know about these trendy trousers with their exciting washes. Discover the range of trendy, acid washed women's jeans at ABOUT YOU.
Vintage Jeans
With vintage washing, jeans are treated in such a way that they look as old as possible. To achieve this, they are brushed and bleached.
The variety of colours of jeans and how best to combine them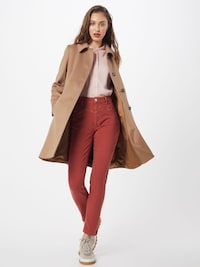 Finally, we look at what colour varieties you can get jeans in, and how you can best combine these great trousers. The variety of colours is almost limitless, because today jeans are no longer only produced in classic indigo blue. The blue is still the classic denim, but black or grey is also popular. If you like it colourful, the best thing to do is to wear your jeans in bright colours such as red or yellow. If you prefer to stick to the classic, you can of course choose between different shades of blue, from light washes to dark denim washes - ABOUT YOU offers everything your heart desires.
This is how you combine the trend piece jeans correctly
Good news: No piece of clothing is as easy to combine as classic jeans. They can be styled sporty, but can also offer up an elegant look. It can be difficult to decide which jeans cut and which wash should be combined.
Models in muted colours and subtle washes are best suited for a classic look. You should avoid cuts with a destroyed look or models where individual areas are heavily washed out. Black jeans are perfect for the office and can be styled with pumps as well as simple sneakers, depending on the dress code in the office.
Do you like to be sporty and comfortable? Then combine casual straight-leg jeans with a striped shirt and cool sneakers. If it does get colder, just throw on a super trendy bomber jacket to complete the urban street style look.
Of course, jeans can also be combined in a feminine way. Combined with a playful striped blouse and a rose-coloured wool coat, you will get to know the classic blue jeans from a completely different side. A feminine style also looks great with other plain-coloured denims, for example combining grey denim jeans with a pink blouse. Discover the wide range of jeans in the ABOUT YOU online shop now!
Popular brands in this category
Popular colours in this category