The A to Z of nightwear – learn everything you need to know about pyjamas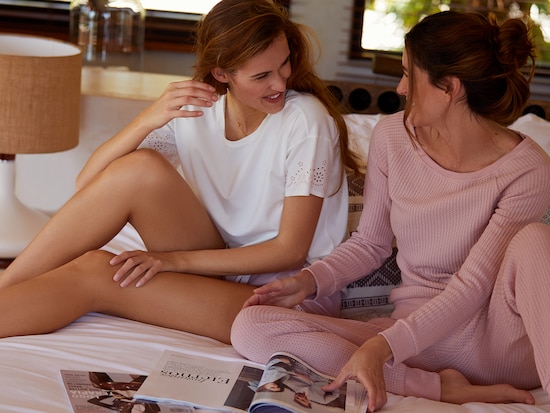 Have you been wondering how to find the perfect pair of pyjamas, which materials are best for sleeping in, what the most important features of pyjamas for women are, and what kinds of styles and patterns are available? Then you're in the right place, because we are about to reveal everything you have always wanted to know about pyjamas!
The history of pyjamas – the long road from India to Europe
Originally, pyjamas were brought to Europe from India by British colonial rulers in the 17th century. However, this style didn't become prevalent amongst Europeans at first – it wasn't until the late 19th century that they made their way back to Europe and quickly replaced the nightshirt traditionally worn by men. Today, pyjamas are worn by men and women alike and are a staple of many wardrobes around the world.
What is a classic pair of pyjamas and what types are there?
Traditionally, pyjamas consist of two parts: a long pair of pyjama bottoms and a matching top with long sleeves and a full-length button placket. Today, pyjamas usually come in the form of bottoms paired with a T-shirt or long-sleeved shirt. Various types of pyjamas exist; for example, pyjama shorts are popular in the summer months, while long pyjamas bottoms are a great choice for the winter months. Both pyjamas bottoms and shirts can be bought separately, so you can mix and match to create your perfect pair. And there is yet another alternative for those who want complete freedom to move: the nightshirt. This variant is both comfortable to wear and offers ease of movement.
Discover the advantages of onesies
Do you like to be comfortable and want to wear your pyjamas for a relaxing evening on the couch? That's no problem with one-piece pyjamas, more commonly known as onesies! Many models are the perfect combination between laid-back loungewear and pyjamas, so you can even take out the rubbish while wearing them or, if you're feeling brave, pop out to run a few errands.
Some types of onesies are really only designed to be worn as pyjamas. The advantage of onesies is that there are no gaps, so they keep you warm for longer. What's more, they protect your modesty. Just like regular pyjamas, onesies are available in many materials so you can choose any model you like, according to your tastes and the time of year.
Different seasons, different pyjamas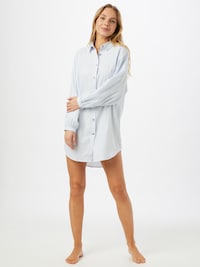 As you can see, there are countless varieties of pyjamas to choose from. The only thing to keep in mind is to choose the right material, so you can be comfortable while you sleep – all year round. Below you will find more information about choosing the right material for your pyjamas.
How to find the perfect pyjamas for spring and summer
Who doesn't know the feeling of tossing and turning all night because it's just too hot to sleep? Sometimes the right pyjamas can make all the difference. In the spring and summer months, you need pyjamas made of lighter materials than in the winter months, when you might opt for soft and cosy materials. In the summer, short pyjamas, consisting of shorts and a top, or short onesies are ideal. During this time of year, the nights get warmer and you want to wear as little as possible so you can stay cool under the covers at night. There are several materials that are ideal for this time of year, as they absorb sweat easily and are quick to dry. For example, silk and viscose are a great choice.
Silk pyjamas – perfect for warm nights
Silk pyjamas for women are characterised by the smooth, cool feel, making them perfect for warm summer nights. They are also quick to dry. Another fantastic property of silk is its shiny appearance, which women who like a touch of elegance and don't want to compromise on looks, even in their sleep, will love. Since silk is a natural product that is obtained from the cocoons of the silk worm, silk pyjamas are considerably more expensive than other pyjamas, whose manufacturing process is not as elaborate. As a result, these pyjamas are not a budget-friendly option. They are also not suitable for vegans due to their animal origin, in which case other materials, such as cotton or viscose, are recommended.
Satin – elegance for a modest budget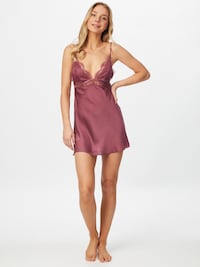 Another great material is satin, which is also very elegant. Just like silk, satin is cool and smooth to the touch. However, satin is not a material in its own right, but a weaving technique, which can be produced using various materials. For example, it can be made of cotton, silk or polyester. The properties of satin therefore depend on which material it's made of. If you don't want to spend as much money on silk pyjamas but still want a touch of elegance, satin pyjamas are a great choice for you, as they are very similar in appearance to silk.
Viscose is an excellent material for warm summer nights
If you want to keep it casual, pyjamas made of viscose are the perfect choice for you. This lightweight material feels similar to cotton and, in its purest form, is biodegradable. That's because it's made from wood cellulose or eucalyptus, making it a natural material made from renewable ingredients. Viscose pyjamas offer the advantage that they absorb moisture effectively, which makes them the perfect choice for the spring and summer months. Viscose is also characterised by easy-care properties. Another advantage of viscose pyjamas is that the material is relatively inexpensive compared to silk. Viscose is a fabric that feels great against your skin while being budget-friendly.
The right pyjamas for the winter time? We will you choose your perfect pair!
In contrast to the spring and summer months, your bedroom can get freezing on winter nights without putting the heating on high. In order to stay cosy and warm in the winter, it's important to select the right materials and cuts for your pyjamas. As previously mentioned, it's recommended to choose pyjamas with long bottoms and a T-shirt or long-sleeved shirt, so you don't freeze at night. Another great choice for staying warm is a onesie, which are perfect for relaxing on the sofa after work and enjoying a snug and cosy evening. Many models also have a hood for the ultimate comfort factor. But what about the material? Which materials are best for cold nights and keep you cosy and warm without overheating, despite their thick fabric? We introduce a few fabrics to you from which to choose your perfect pair of long pyjamas.
Flannel pyjamas are snug and cosy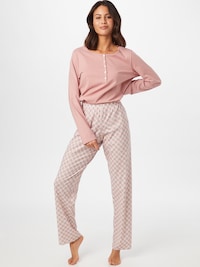 The classic pyjamas for autumn and winter are undoubtedly flannel pyjamas. Known for plaid flannel shirts or warm bed linen, this fabric is ideal for nightwear too. Thanks to its soft, cuddly feel, it's the perfect choice for a cosy night's sleep. And that's not all: the material is also extremely absorbent, so it keeps you from feeling sweaty during the night. Even in winter, it's possible to overheat, especially when tucked under a thick duvet in your favourite flannel pyjamas.
Terry cloth pyjamas keep the cold at bay
Another excellent choice of material is terry cloth. You might associate this fabric with towels, but that is not the only use for terry cloth. This fabric is perfect for use in pyjamas, not least because of its soft feel. Like flannel, terry is also highly absorbent, which is what makes this fabric so attractive for the manufacture of towels, and what makes it the perfect choice for people who tend to perspire at night but still like it warm and cosy.
Fleece – not just for fleece jackets
This fabric, as featured in the classic fleece jacket, is particularly suitable for the winter months. Fleece pyjamas are ideal for young and old alike, and are bound to banish the cold. It's important to note that fleece is made of synthetic materials, and is therefore not a natural product nor biodegradable. In addition, synthetic fabrics are considered bad for the environment due to the fact that they release microplastics. The quick-drying effect, however, which is particularly evident in synthetic sportswear, is an advantage of fleece pyjamas.
Cotton – the classic among fabrics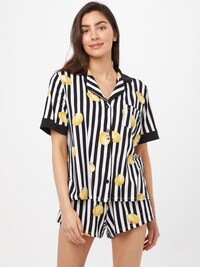 Another absolute classic for cold days is cotton. This material comes in many forms, but will always keep you warm at night. However, cotton is not the easiest to care for, since it can't be washed at high temperatures and is not crease-resistant. Cotton also dries slower than other fabrics, making it less well-suited to women who perspire heavily at night. Nevertheless, one of the clear advantages of cotton is the hypoallergenic and skin-friendly quality of the fabric, which makes it an excellent choice for those with allergies.
Pyjamas come in many designs, colours and patterns – so every fashionista can find her perfect pair
There is no shortage of options available to you when buying pyjamas. From subtle to striking, you can find them in all manner of styles and patterns from the ABOUT YOU online shop. Do you like simple and subtle designs? Then opt for plain pyjamas in muted colours. If you still want to include patterns, then models with fine pinstripes or a subtle dot pattern are an excellent choice. Colours like white, cream or light blue are perfect for a subtle look. The label LASCANA, for example, has attractive pieces in its collections. Here you can find stylish pyjamas in various cuts and colours. This trendy label has something for everyone, especially if you like muted colours such as subtle blue, delicate lilac and light grey. The LASCANA range also includes delicate patterns. Take a look at our fantastic collections!
Do you prefer striking designs with bright, bold colours? Then go for colours like red, yellow or pink. There are no limits to your imagination! When it comes to pyjamas with patterns, there are many eye-catching and flattering styles to choose from, including colourful floral patterns, chunky block stripes and animal prints! Browse the extensive product range at ABOUT YOU and discover pyjamas from various top brands you are bound to love.