---
Jeans: You can find out everything about jeans here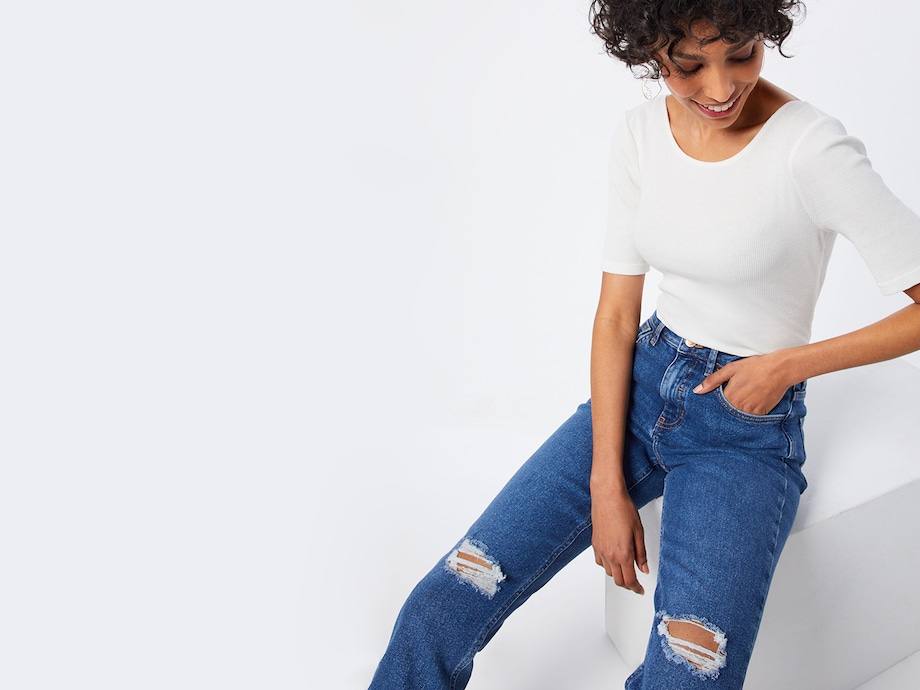 The history of jeans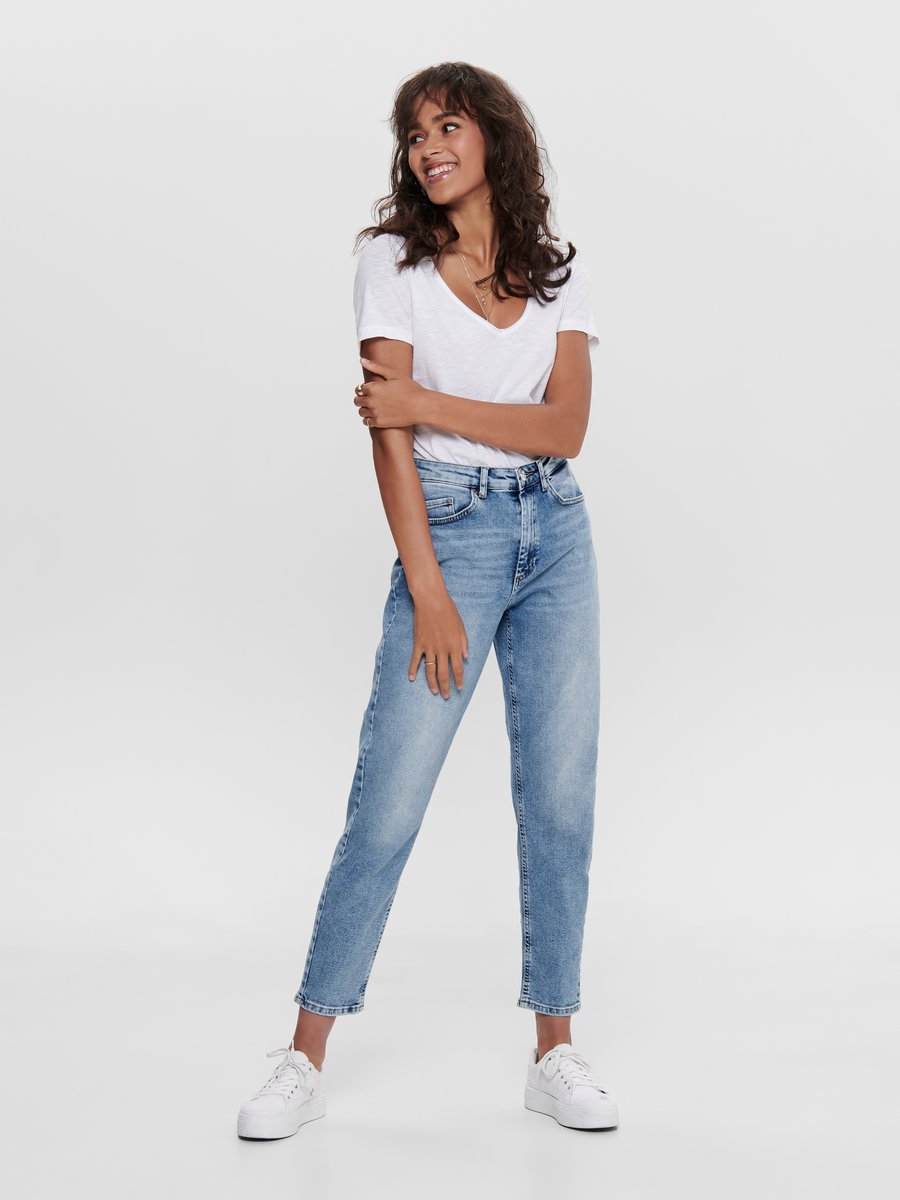 The origin of jeans goes back some years. Jeans were invented in the USA about 150 years ago by Levi's founder, Levi Strauss. Originally, the trousers were intended to be comfortable and robust work trousers. Levi Strauss finished jeans in an indigo blue, which was to become the trademark colour of denim. In the 1930s, jeans were mainly worn by young Americans in protest. In Europe jeans first appeared during World War II. In the 1950s, the first jeans for women finally appeared.
Today, the variety of cuts, washes and colours is almost endless and it is not that easy to find your own personal favourite. So, if you are wondering which jeans are available and which models might suit you best, then you have come to the right place. Here, we shed some light on the topic and present you with various jeans trends.
What material are jeans made of?
The first jeans were traditionally made from a robust denim material, which consisted of cotton or hemp. Even today, the same fabric is still used in the production of jeans but other materials are often added. For body-hugging cuts, jeans generally consist of a high proportion of cotton and a small amount of elastane to make the denim stretchy and comfortable, and to guarantee full freedom of movement. Skin-tight skinny jeans, in particular, need a high proportion of elastane so that they are wearable and do not constrict. In addition, many jeans today are made from synthetic materials such as polyester.
Women's Jeans Fits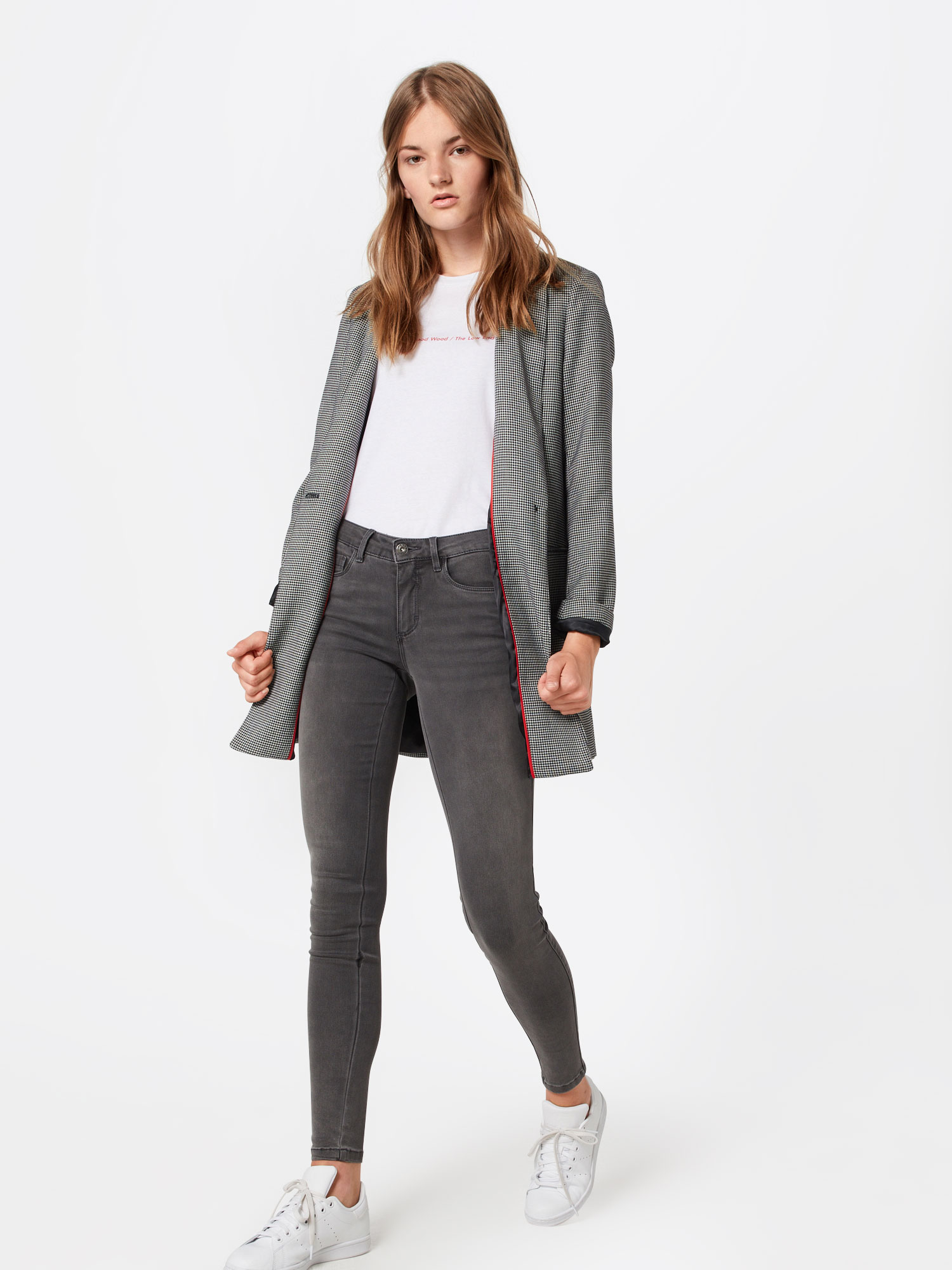 There are many different styles of jeans, all of which are described in the following text.
Skinny Jeans
Skinny jeans are characterised by their slim fit. These jeans are tight-fitting and very body-hugging. Skinny jeans are one of the most popular styles and they are available on ABOUT YOU. Discover our wide range of skinny jeans.
Slim Fit Jeans
The full leg of slim fit jeans is also cut tight but is straighter than that of skinny jeans. These jeans are body-hugging with a slim silhouette, yet are still comfortable thanks to their high stretch content.
Straight Leg Jeans
Straight leg jeans can also be called regular-fit jeans and have quite a straight cut, yet are still form-fitting. As straight leg jeans are not tight-cut and are not very wide, they are perfect for creating a classic, casual look.
Bootcut Jeans
Bootcut jeans are cut narrow at the waistband and thighs, and are flared slightly from the knee. These jeans are a real classic as a bootcut leg can be worn by almost all figure types and is great for balancing out wide hips.
Boyfriend Jeans
Boyfriend jeans should, as the name suggests, look like your "boyfriend's jeans". Accordingly, the jeans have a wider cut, sit loosely on the hips and have wide legs, which are often turned up at the hem.
Mom Jeans
Mom jeans are characterised by a loose fit and a high waistband which reaches above the navel. The legs of these jeans taper inwards in a carrot shape and the hem is often rolled up slightly. The back pockets sit higher on Mom Jeans compared with other types of jeans. Incidentally, the men's version of these jeans are called Dad Jeans.
Jeggings
Jeggings are leggings that look like skin-tight jeans. Jeggings have an elastic waistband and may also have patch pockets and zippers on the legs.
Denim shorts
Denim shorts are a great alternative for the summer and mean that real jeans fans can wear denim, even on hot days! Denim shorts range from super-short hot pants to casually cut, knee-length cargo shorts. Plus, another great tip is that when you have a pair of jeans in your wardrobe that you might find too short or that you just don't like anymore, then simply cut them up and create your own denim shorts in a jiffy.
Dungarees
Dungarees have a pouch section in front that covers the chest area. They have adjustable straps on the back of the pants that run over the shoulders and there is often a pocket on the pouch. Dungarees are available with both long and short legs. On ABOUT YOU you also have a large selection of Dungarees.
Culottes
Culottes is the French name for knee breeches, which can be compared nicely with classic culottes. The legs of culottes are usually widely flared and extend to the middle of the calf, but there are also variations where the legs end just above the ankle. Women with large calves should choose a model that does not end at the widest part of the calf, as this will make your calves look wider. These trousers are generally ideal for women with slightly wider thighs, as they are disguised by the loose shape of the culottes.
Flared Trousers
Bell-bottom jeans are cut tightly on the lower body and on the thighs. However, they get considerably wider below the knee. Depending on the length of the jeans and width of the foot, the pant leg can cover the entire shoe.
Every figure looks great when you choose the best rise for your height.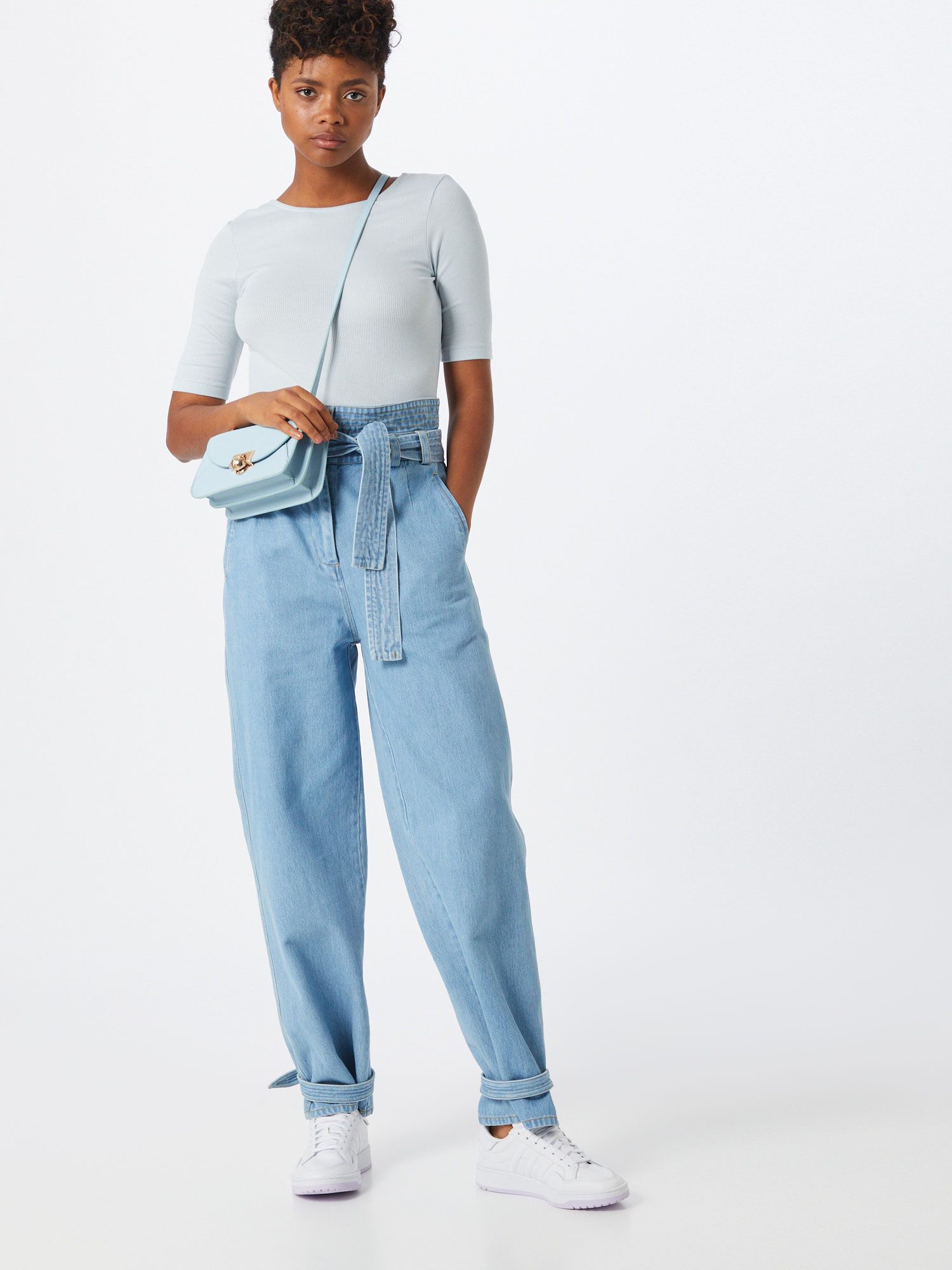 There are also big differences in the rise of jeans, and where they sit on your waist. Depending on which rise you choose, you can highlight different body parts.
High-rise jeans are characterised by the fact that the denim ends at waist level and thus the legs look longer . This cut also emphasises a slim waist.
Mid-rise jeans sit between the hips and waist and are suitable for almost every woman. Whether you have narrow or wide hips, mid-waisted jeans can suit pretty much all women!
Low-waisted jeans have a rise that ends directly at hip height and thus draws the eye to the hips, making them less suitable for women with wide hips. For women who want it even lower, ABOUT YOU offers Super Low Waist Jeans.
Body shape advice: Which jeans suit you best?
There is, without a doubt, a pair of jeans out there for every woman! In order to find the perfect ones for you, you should pay attention to a few things. In this section, we will tell you which cuts suit different figure types best. Women with strong thighs should opt for dark washes and choose jeans that are not too tight. Jeans with straight legs or pants with wide legs, also known as flared jeans, which skilfully disguise the thighs, are great. If you wear high-waisted denim, you will elongate your waist and lengthen the leg area. So you essentially look a few pound lighter. This type of jean with a high waist is also wonderfully suitable for curvy women.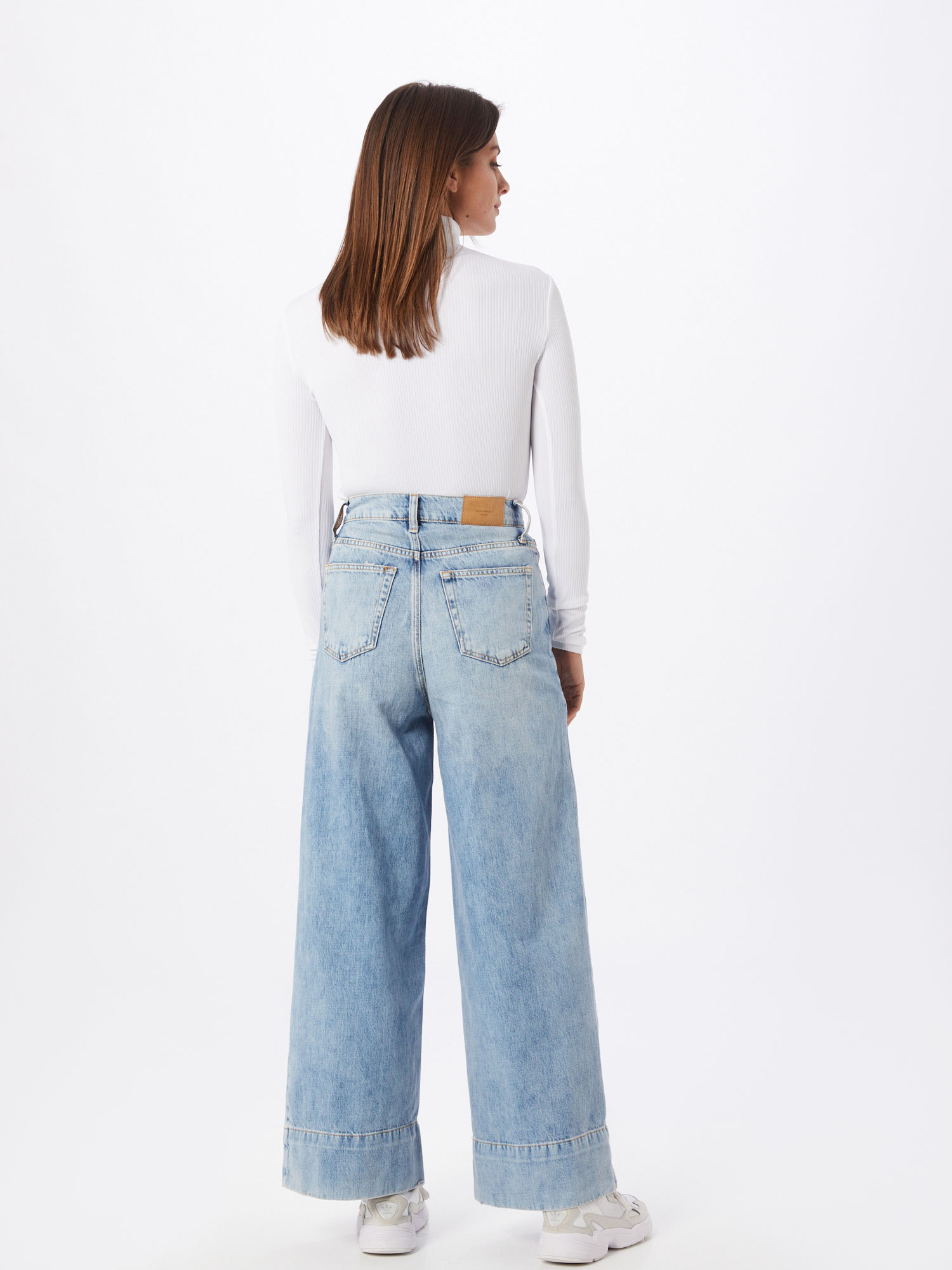 For small women, jeans with shortened legs are ideal, these are often referred to as cropped jeans. Combined with black high heels, they are the perfect pants if you want to look taller.
Jeans with a low fit, also known aslow-waisted jeans, look especially great on women with narrow hips .
Tall women with a slim figure have a huge advantage, as they can actually wear all cuts very well. Women with a wide waist should focus on the legs, by choosing bootcut jeans, for example. Mid-waist or low-waist jeans are particularly suitable here, while jeans with a high rise should be avoided.
Which denim washes are there?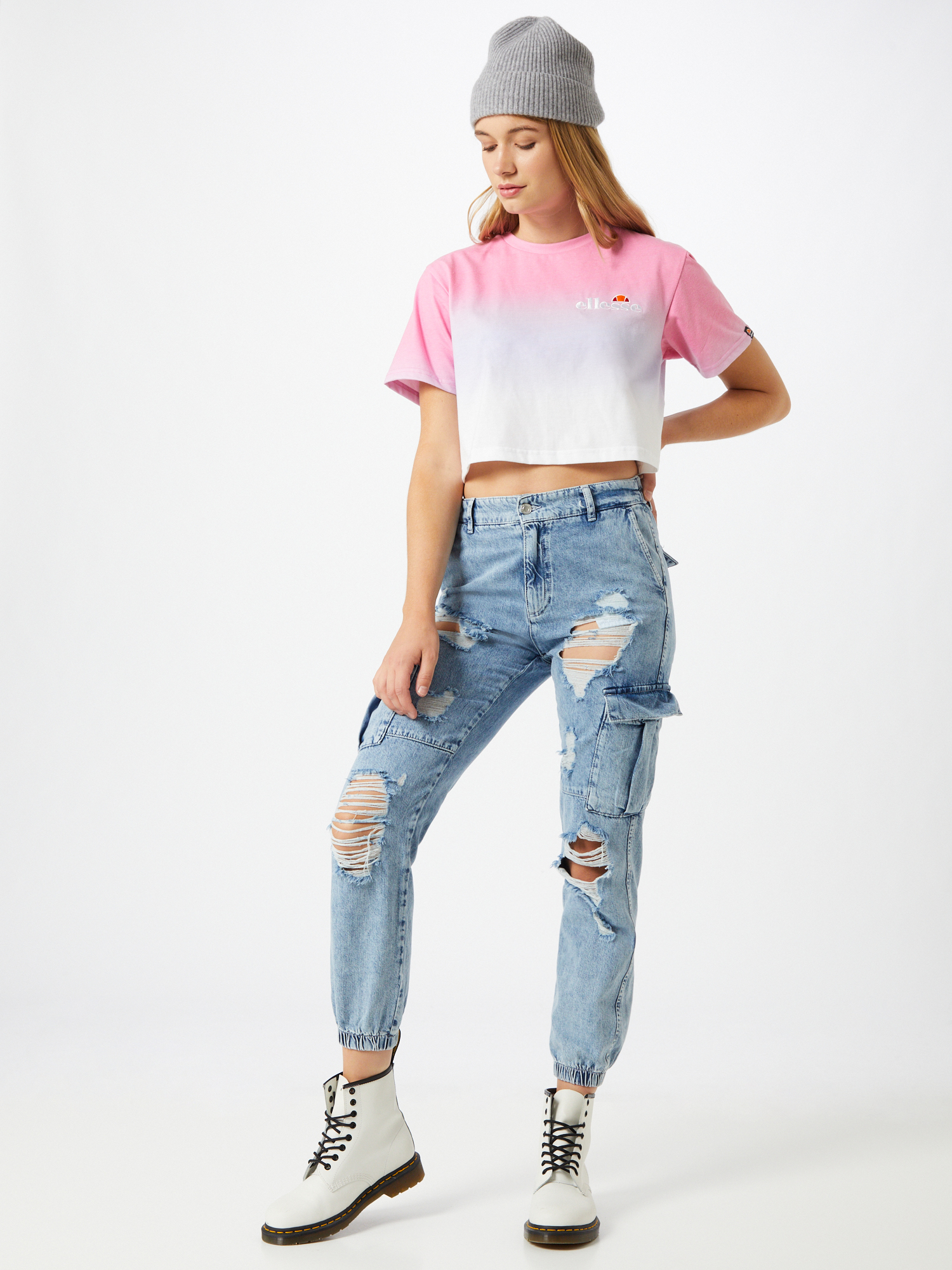 The right wash can make your jeans an absolute eye-catcher. But what kinds of wash are there and what are the differences between them all? Here, we will shed some light on the darkness and introduce you to the most important washes.
Distressed Look
The so-called distressed-look or destroyed-look is one of the hottest washes when it comes to jeans. With distressed denim, the jeans have a worn-out or torn appearance. Distressed jeans should look like they have been worn for years, and generally have holes or tears in them when they are brand new.
Ripped Jeans
There include jeans with a subtle "destroyed" look or small tear, as well as models that have been almost torn to shreds. Ripped denim is similar to this, where the trousers have tears across the legs that give the jeans a frayed look.
Bleached Jeans
Another popular wash is bleached jeans. Either the whole jeans or individual parts of the trouser legs are faded to create a lighter effect.
Stone-Washed
With the stone-washing technique, jeans are brushed with large pumice stones to give them a faded and worn look. In addition to this, there is also the sand-washing technique, where the denim is washed with small pumice stones. The result is that the effects are not as noticeable as when treated with larger pumice stones.
Acid-Washed
Next up, we have the acid-washing technique. Here the jeans are treated with acidic pumice stones and develop a characteristic rocky appearance. For a long time, more adventurous denim had disappeared from wardrobes, but it is now making a comeback and no one can hide from these trendy trousers with fun and stylish washes. Discover the range of trendy, acid washed women's jeans at ABOUT YOU.
Vintage Jeans
In vintage washing, jeans are treated in such a way that they look as old as possible. To achieve this style, they are brushed off and faded.
The range of jean colours and the best ways to style them
Finally, all that is left for us to mention is the range of colours available when it comes to jeans and the best ways to wear them. Nowadays, jeans are no longer only produced in classic indigo blue and the range of colours available is almost limitless. As ever before, blue is a classic denim colour, but black and gray are also popular. If you are a fan of colour, the best thing to do is to wear bright jeans in bright colours such as red or yellow. Anyone who prefers to stay with classic colours can of course choose between different shades of blue, from light washes to dark denim washes, literally anything your heart desires can be found.
The best ways to style jeans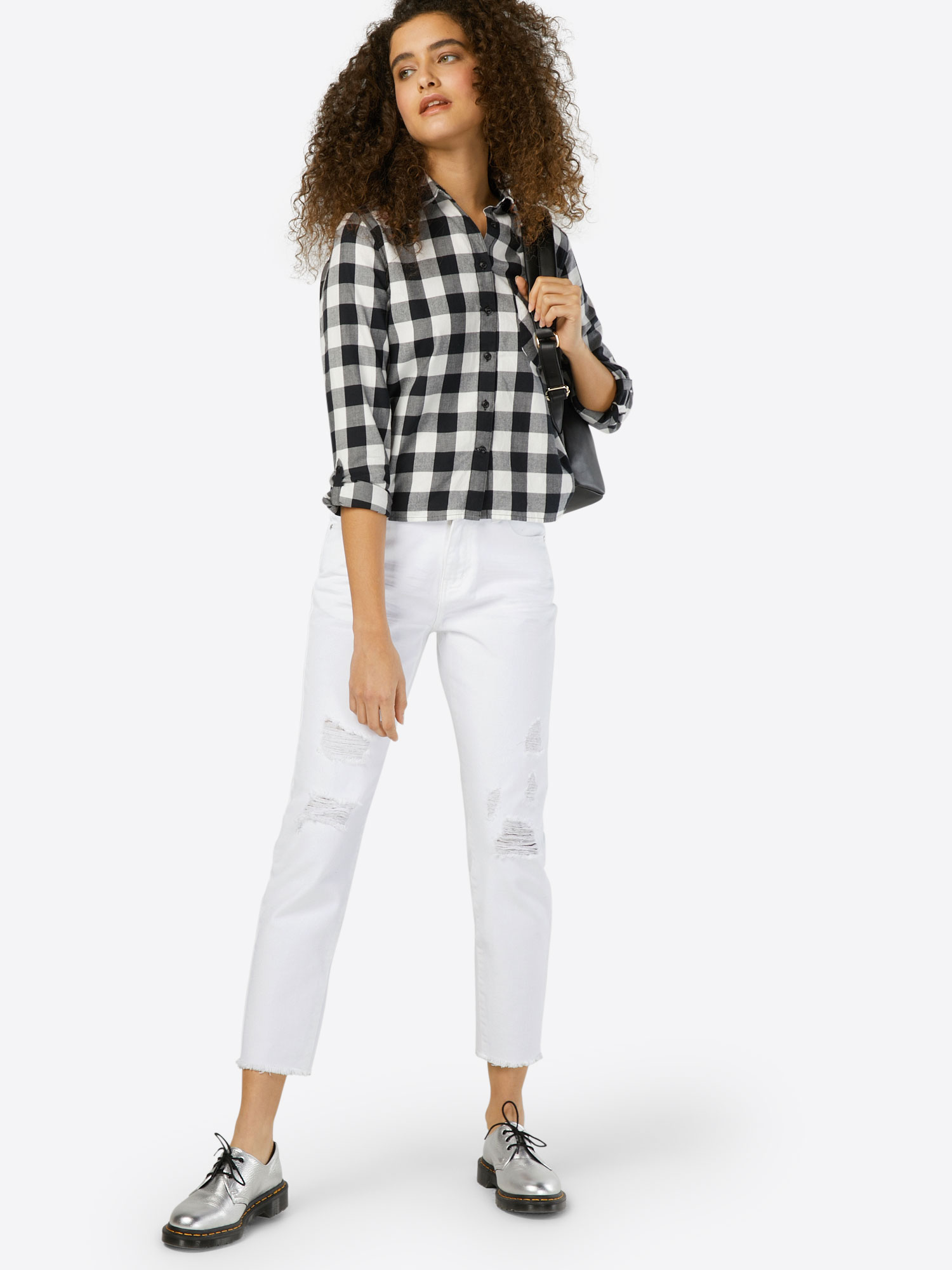 Good news: No garment is as easy to style as a pair of classic jeans. They can be styled to have a sporty look and can also be dressed elegantly. The deciding factor is always the combination of the cut and the wash of the jeans. For a classic look, models in muted colours and with subtle washes are best. You should avoid cuts with a "destroyed" look or jeans where individual areas are heavily washed out. Black jeans are perfect for the office and can be styled with both pumps and simple sneakers, depending on the dress code in the workplace. You like to be sporty and love to be comfortable when on-the-go? Then combine casual straight-leg jeans with a striped shirt and cool sneakers. If it gets colder, you can simply throw on a super trendy bomber jacket and complete the urban street style look. Jeans can also be worn to create a feminine look. When teamed with a playful striped blouse and a rose-coloured, woollen coat, you will discover classic blue jeans from a completely different perspective. And plain-coloured denim also works well for feminine outfits, for example, by combining a grey denim with a pink blouse. Discover the wide range of jeans in the ABOUT YOU online shop now.